The style of practice will help you to determine what qualities you need to be looking at in a mat. The Grounded Factory premium yoga mat help you do the job in the studio, gym or in your home - whenever and wherever you need a moment to yourself.

the warmer and sweatier you get, the better the grip becomes
The bottom is made of a 3.5mm naturally biodegradable tree rubber that gives nice support and comfort during class. The unique top consist of"vegan" synthetic suede that gives you a soft yet firm grip on the as the anti-slip function is activated when the surface is damp.

If you find your new mat a bit slippery the first time - don't worry. Just like a new pair of running shoes or your favorite pair of jeans, our premium mats only gets better in time. While you practice, sweat and breathe on it, the soft surface will naturally wear in and become more rough.

So don't forget to spray, splash or wet your mat for a super grip. Or just make sure you build up a really sweaty grip. The warmer and sweatier you get, the better the grip becomes - one more reason not to skip class. Ideal for hot yoga, bikram yoga or any kind of sweaty workout.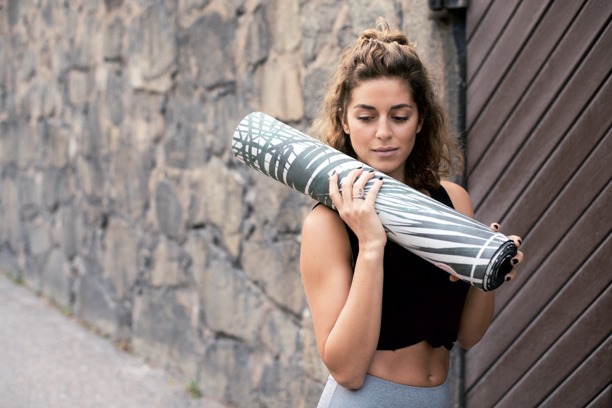 ECO-FRIENDLY & SUSTAINABLE
Gentle to both the environment and your bodY
We use naturally biodegradable tree rubber that is durable and free from metals such as lead and cadmium. Synthetic suede made of polyester printed with water-based ecological paint. Free from toxic glue, phtalates, latex and silicone.

Wipe the mat clean whenever needed or wash in the machine at 30 degrees, let hang dry.

Dimensions : 173 x 61 cm
Thickness: 3,5 mm
Weight: 2.5 kg

Each mat is packed in a beautiful designed cardboard box. Strap to carry your mat with is included in the package.